An Englishman in New England August 5, 1996 (and more)
Hola Chiquititas!
From Verlene's dance card -
She says, "Divas in Tevas"*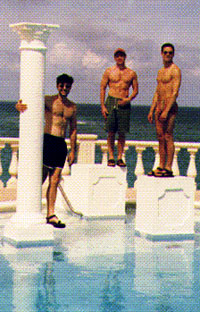 Sorry about last week. With everything going on I could not update the park but I have had quite a week. Give me a minute to collect my thoughts (and my misplaced cocktail) and get comfy!
OK! My week was highlighted with a lengthy dinner, in Boston, with Quentin Crisp. Quentin is such a sweetie and reminds me so much of my granny (his hair is the exact same shade of mauve). Oh, I am so blessed to have spent time with this "international treasure". Quentin kept me in stitches with the stories of old times and gave me a great piece of advice - "How will you ever get any help unless you look helpless?" I love the tenacity of this dainty old soul. He is the only one that I have every met who correctly calls Julie Andrews, Mrs. Edwards! Now that is proper! Quentin, I have your number, and will call you soon!
While on the topic of dear old souls, Claudette passed away this week. As some of you may know, Claudette was my neighbor in the trailerpark in Bar- bados. I will fondly remember helping her pick up fresh fruit at the local market while preparing for Ron and Nancy as houseguests. She then jumped on her moped and sped up the hill, yelling at the small children and farm animals to get out of her way. Heaven has one more pretty angel!
The Olympics are OVER! PTL! I have not seen that many women falling off a bar since that weekend in South Beach with Gretchen and Debbe Reynolds. Apparently no one but the Americans won anything and everyone who did win had some horrible acci- dent in their family. Coverage was atrocious! Two enthusiastic thumbs up for the gold shoes worn by that cute michael. I scoured Wal-Mart looking for a pair, if you know where I can get these, please call me!
In Raleighwood, everyone seems to be recovering from the CMF XVI. I saw very few people out and Chipperlean has mysteriously disappeared! It seems as if cupid's little arrow is zinging all around now and injuries are reported in Washington and Raleigh. But I am sworn to secrecy! I do know that they Play- tex Girls (no visible means of support!) are experi- encing a little credit problem! Apparently Visa is tired of supporting them as well. You heard it here first! Marcia and Cutie-pie gave me big hugs! Thanx! Randi, sorry I did not catch up with you in Boston, Quentin called!
Well. Time for Rosie! Remember:
Style is being yourself, but on purpose! - Quentin Crisp
V
* and I say, it seems as if the gentleman on the right is perhaps "sans costume" and the gentleman in the center might be getting a bit familiar. We should all say "Thank You Verlene" for thinking of us. Retraction The most honorable gentleman on the right is most certainly wearing something, and would be very pleased to have you aware of this. Sigh. Continuing Although I have it now on excellent authority that the right gentleman is more at home without than with.