Can't I get in trouble for that, officer? August 22, 1996 (and more)
Hello my fellow mammals!
From Verlene's dance card -
She says, "Oiling up"*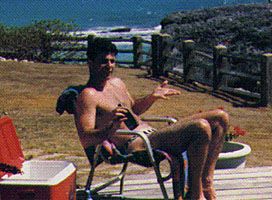 I am going crazy. It is a short trip. A serious lack of travel combined with a steroid treatment for the poison ivy have left me shaking and bulked up. I have been snapping at everyone and the complete lack of sleep leaves me with bags under the eyes that are going to count as carry- on luggage on my next trip.
I guess that the most exciting thing that happened last week was the fact that I was pulled over in a DWI checkpoint. Verlene, is the first to admit that she drinks like a fish as I play my Boney-M and Nana Mouskouri records at home. However, drinking and driving is very bad! I do not do that! Besides the pinto is pulling hard to the right and I would be spilling my campari and orange all over myself as I speed down the beltline!
Anyway, I do not know how many of you have ever been pulled by the Cary cops but they are absolutely the cutest, hunkiest of boys. I also think that the very junior ones are forced to work that Sunday morning 3AM shift. I pulled the pinto up to the officer and he stuck his big hand in my face and told me "Blow in here". Well! A new and different request for the old Verlster but a challenge that I knew that I could master! Luckily I had just applied a fresh dab of chapstick. Chipperlean would have been proud!
Apparently I must have passed the test because after about 30 seconds, we broke up and I was asked to continue on my way. Not the first time that has happened. At least I did not have a pocket full of worthless tokens. (for the subway of course!)
Well that was about the most exciting thing that has happened to me here in the south! I really must cut this short and run! My boss is in town. She is just back from the Republican convention. We do not get along. Have you all seen all the buzz on the internet and elsewhere about that Kemp man! Apparently his son has quite a few close friends here in the Raleighwood Estates trailerpark. But I do not know about all of that!
Many of you have asked: Verl, girl, how do you travel like you do? Well I will share my secret. ROLOHANTAS and EDWINA of Rainbow travel! These girls can fix you up with the best fares and they are so cute. I would highly recommend them to you and I can personally vouch for them. They do have a web location that is long and bizarre. They are in the www.citysearch.com site, in Raleigh, under "travel." Their phone number is 800-633-9350 X430. These gals know about "something special in the air"! Check them out at http://www.citysearch.com/V/RDUNC/0002/99/04/0.0.html I have been with them since the beginning, mention Verlene for a free chuckle (and cocktail coupon, if they have any of them left!)
Last word of advice! Be careful who you are getting your cookies from!
foreVer Vours,
V!
*And I am refraining myself from the obvious, although necessary comment.