Playing in NYC August 26, 1996 (and more)

From Verlene's dance card -
She says, "A simple yet pretty hairpiece"*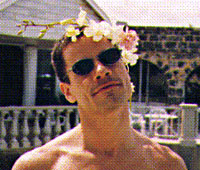 As a rule, never combine Nyquil and Tequila. I am not sure exactly what happened on Wednesday of last week but by Thursday I realized that I was on my way to New York and Rolohantas is still holding another ticket for me that I booked in my drunken stupor. I remember going to a play and "Emma" with Erika Sparkles and Marica Zoom Zoom and then there is a gap --
So! Suddenly I am in NYC with TJ(Actress). "The city that never sleeps" seemed appropriate for Verlene who is still getting over the recent bout of steroid induced sleeplessness. How do those Fire Island gals do it? Huh? I had not been to NYC in about a year so there was plenty of catching up to do. I landed and took off my I-heart-Jesus scarf (Do you want strangers NOT to talk to you? This works WONDERS!) and my wide brimmed hat and put on some comfy shoes to hit the pavement and "start spreading" something!
Taking much advice from Trudy's friend Mr. Jewel, I decided to hit the great white way (relax Alana) and go to some theatre!
I started with "Show Boat", big lavish, lovely. Great music and a huge cast of nice people! Really enjoyable.
Then, I thought that TJ told me that we were going to see "Making Popcorn". How nice I though! Well, it was indeed "Making Porn" with a very handsome and very buff Rex Chandler. Verlene swallowed an entire twizzler as the buffet of flesh and dairy products unveiled themselves, a mere couple of meters from my seat! The collective gasps of the audience and the surprising Steve-Kmetkoish voice of Rex are worth the admission! Rhonda, you would have been IMPRESSED!
We scurried out into The Village for a quick look at the store windows and architecture (right) and then into the remake of "Valley of the Dolls". With general admission, Verlene was right up front and center! VotD was so well done that TJ and I ended up holding onto each other and some other old trailer gal while we laughed! I knew it was going to be good when we were "encouraged to drink, because Jacqueline Susann would have preferred that" and the cast handed out little cups of "drugs" before the show started! Fun FUn FUN! Two press-ons up! Jackie and Tina! I thought of you often, of course with all of the drugs, I thought that I was back at one of Leeza's party!
Finally, the "Jewel" in the Tiara. We went to see "Rent". Oh my gosh! It was everything that everyone has been raving over! A must see, must do. Do not ask how we got tickets, but thanks to those involved! My knees are still a little bruised!
TJ(actress) did ask me to go to what I thought was a lovely water-park! I put on my one piece, and packed my snack-box (do not go there!) and met her at "Splash". Boy was I embarrassed, at first. After a couple of tequila shots, I found the showers and relaxed! And to think that I missed the big Raleighwood Lu'au! Darn! I heard it was great. I always miss the good things in life.
Well, I wonder where Ms. Rolo has me going next weekend!
Love! Keep your dignity!
V!
P.S. Exciting news from Trudy! There are some of you, (and you know who you are!) who often grumble that you can never write me back..."no Verl, I did not get drunk and fall off the bar"..."Verl, please take me off the list for a week or so, the baptists where I work are reading about my exploits!"..."Verl, please include the following in you column, that tart is at it again"..."Verl, do not mention that you saw me in that/with that/near that"...
Well, thanks to Trudy, you can (and I make NO guarantees here) write me at verlene@datalounge.com. I will try to reply but I do work you know! Is Trudy just not the bestest?
*A floral comb-over? Really, the poor dear.