Es calor in Miami! No? September 4, 1996 (and more)

From Verlene's dance card -
She says, "Boys! Holding their nuts!"*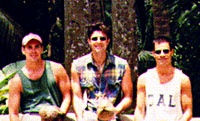 Ay Papi! Oye'!
With copious amounts of sweat pouring from my body, I made it through a labor day in Miami! Gosh! Nothing like a nice healthy helping of Cuban! Pero, with a side order of divino plantains! Yumm.
What can I say? I locked the pussies in the trailer and packed my new toothbrush (purple) and took off to Miami! It is pretty sad when you just see one pretty, pretty thing after another and you get numb to the view! `Tashi, Ms. Margarita and I did spend a lovely evening at the "Men at Work" party (or something to that effect) behind the ICON (old Paragon) and I will admit that the choice of a long sleeve blouse was pretty stupid! However, with all those steroid sisters out there in their white tank tops, I really did not have a choice! I had a delicious shake for breakfast and lunch the next day, and then everything in the fridge for dinner!
I am back in Raleighwood where I understand plans are under way for the big "White Party" in Charlotte. I hope that Chipperlean, Sylvia, the Good Doctor and Consuela will all be making a trip down for that event! I understand that Sylvia has been wearing the same pair of stunning white jeans for years now! What a lark! I have socks from last year that do not fit me! With her recent work-out schedule (here and in Montreal!) I think that her jeans might be too big (one day I might know what that is like!) Maybe Chipperlean can borrow them?
Big scam from the "people in the know, A-list types" in NYC. There is some big confusion with all sorts of very important people trying to get entrapped by the police for all sorts of drug things. I am not calling any names but I do know that you will be dancing in different places because of this. Check your calendar very carefully before you go out.
It appears that the Raleighwood police have also been cleaning the streets near our little hang outs! Thanks for letting Verlene in on that news and I will make sure to tell you all to stay away from anyone (cute or otherwise) who approaches you about a "date" and then mentions money! Snap your purse shut and leave unless you look good in stripes!
Ms. Marta and the gals in Nashvegas reports that they "jumped right back on the drinking wagon with a jaunt to an All-You-Can-Drink-Champagne Brunch." (Her words!) I just hope that it was good champagne! Ms. Debbe Reynolds and a few of the entourage were in Nashville for the event!
Jackie rushed out to the West Coast to see someone about something! Tina? Where are you? I am not mad at you any more. Chipperlean has been entertaining a little French thing! Chips, sweets, it was a valiant effort but trying to explain that you order Mountain Dew and not white wine at a FISHCAMP was a futile effort! Those French! I also understand that Jim is having a rocky time of things, and enjoying it!
Well, gots to run! Belated Birthday wishes go out to a bunch of you! I really cannot keep up with everyone and when they turn 29, again! I am going to sit here and nurse my bunions for a while!
LoVe-rlene!
Write to me at verlene@datalounge.com. I will try to reply but I do work you know!
*Wasn't the one on the right sporting a floral headress earlier?