The answer is blowing in the wind... September 9, 1996 (and more)

From Verlene's dance card -
She says, "Fly girl"*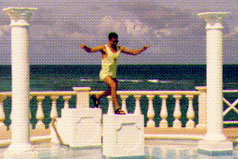 Ugggggggh!
I have one word for everyone -- Fran! Like my mother, she came, she messed up things and she left! Raleighwood got slammed by this hurricane and left us all with out power and some other essentials! Talk about "flipping my wig!". My Eva Gabors (God rest her soul) are all sporting a new wind-blown look.
I do have a teensy bit of an over-hang this morning! Someone, and I am not going to mention her name, told me that I needed to use up everything in my refrigerator and freezer, before it went bad! Well, I had polished off two and a half bottles of vodka and a small jar of capers and miracle whip before they power suddenly came back on! My head hurts and my breath stinks. It helped potter away the 48 hours sitting in the dark!
After the tylenol kicked in, I realized that I needed to get out and check on the neighbors! The pinto was full (well the gauge said so!) and I ventured out! YIKES! Trees are down EVERYWHERE! Laying all over the road like Gretchen on a really bad night! I felt like little Ms. Pac-Man as I tried to find a path though the, mostly impassable, side streets of Raleigh!
About the girls! Debbe Reynolds has lost the edge of her house! She and Triscuit are living at the office after being rescued from the Waffle House! Brianna and Karla have a tree through the cocktail gazebo. Poor Rhonda is the worse! She was trapped on her street by these huge fallen trees and power lines! It will be a while until she can even find the road in front of her house! I rescued the poor thing, she grabbed her new "Super Deluxe Bedazzler" (Happy Birthday, Girl) and joined me on a quest for food!
Of course, finding food in this town was a treat. Rhonda, Watusi and I were circling the malls when we noticed a couple of large truck loads of Army boys (called up here to help pull wood, I'm sure) going into the Ryan's-all-you-can-eat-mega-bar! The pinto did a brilliant three point turn and we had a lovely lunch with the boys! The buffet was YUMMY!
I then checked on Sylvia who was at home doing laundry and watching cable. Seeing that she was OK! We carried on our task of checking on the gals of the trailerpark! Trudy was fine, she arrived with a great bottle of champagne to help "clear our bush", I have no idea what she was talking about, as some of you often do, with me. A lovely dinner with Leeza and I was ready for an early night, again, without lights or AC.
By Saturday night it seems that everyone had a little cabin fever! Despite a curfew we took off for the bar! (I was secretly hoping that I would get pulled by that nice Cary officer again, you remember, the one that I dated a couple of weeks ago at the DUI checkpoint). I did wave at James and the Rockettes at Caribou Coffee, so I assume that they are fine. Could not stop, however! Barbie Benton needed to get home.
Anywho, the local bar was a-hoppin'! Everyone was in a mirthful mood. Someone had been by the mall and reported that the damage is only to the bottom floor, YEA! There were some who had obviously dressed by candlelight and the let us not even talk about the make-up or the lack of blow dryers! It was refreshing to see people with a more natural look. That perfect, buffed-n-blown look is soooooo boring! Some did have on the obligatory, white tank tops!
Finally my power did come back on in the Trailer! YEA! Of course, since I was the only one with power, AC, phone and cable yesterday, I had quite a little gathering of people needing to sleep over, shower, shave, rinse and set! It was much like that great sleep over in "Grease" except that no one tried to pierce any body part (OH! Cutiepie has a new guest towel rack installed).
Well, we will see what the week has to offer!
Blow me some other time, Fran!
V
P.S. Chipperlean? I've called and no answer! Are you at the Lake?
Write to me at verlene@datalounge.com. I will try to reply but I do work you know!
*Meanwhile I'm thinking Hermes -- the Greek, not the scarf. Although I am certain that both would be applicable in this situation.