Creamed and Contented September 24, 1996 (and more)

From Verlene's dance card -
She says, "Bobby, looking for Cindy! Pride in London!"*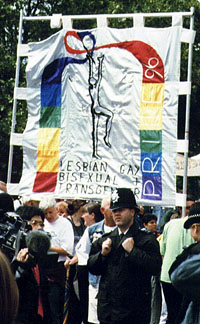 Hi Babes (it is Babes, isn't it?),
Phew, the pinto is back in town after a whirlwind tour or Charlotte. Yes, indeed the "Queen City" again hosted the annual White Party that was everything! Verl, knows how non-flattering all white can be, so I pulled together a nice cream ensemble. Everyone, except Chipperlean, seemed to be unaware that I was trying to sneak one past them!
I tell you what, my friends there know how to throw one heck of a party. Free tickets, pretty boys and open bar...these are a few of my favorite things. But I behaved! I think. It was a stunning moonlit evening, in a gracious old lakehouse with gorgeous boys in white....farewell summer! Consuela, Sylvia, Chipperlean, and Lori represented the Triangle. Everyone looked radiant, if not a little sad that the good Doctor could not join us, like a trip to Stockholm is a good excuse)!
This year (despite the rain, which bounced right off of my Stunning #56 Eva Gabor,) I was Chipperlean's keeper. That girl, she was a riot! I am not sure exactly what happened but I do remember her giving me strict instructions to speak to her, for the rest of the night "seulement en Francais". I vaguely remember running down a darkened country road with a van driven by a cute little geisha, chasing us and Chipperlean screaming at me in French. Very X-files! I must ask what exactly were in those mushroom quiches.
Of course, Chipperlean nearly broke my cover by introducing me to this cutie who told me that his name was also Verlene. I think, at that point, we were drunk and he was perhaps trying to get rid of us! What do you think?
Consuela drove me home, past the Christian Broadcasting Center, the Billie Graham Parkway and Sailsbury "Home of our favorite daughter and son-in- law, Bob and Liddy Dole"...I spit a cheeto out of the window in their honor.
I understand that I missed a fun weekend here also. Oh, well! C'est demage. I will have to remember to wish Ms. Rolohantas and Patrica a happy Birthday this Thursday! I know that a few of you have seen her little squaw outfit, on parade, in NYC on the (not)Wigstock weekend...but that was Ms. Edwina who had borrowed, said outfit, not Rolohantas!
OH! Before I go...Have you all seen that new Joey Lawrence show! Oh, my, God that boy has been working out and is wearing the tightest of tight shirts! A real panty-wetter. I think that it comes on Sunday nights and is called Family something...a GOOD viewing!
Well, Keep warm! Fall approacheth.
Verlene, contented and creamed.
P.S. I understand that our little Jackie Michaels is planning a move. More news as it come available! I think that the west coast is a-calling! Tina, I am coming to DC for the quilt and will help you to divide up the household. This is happy and sad!
Write to me at verlene@datalounge.com. I will try to reply but I do work you know!
*And I say, "What picture, I can't believe that child wasted a Cheeto! MOREOVER, a White Party after Labor Day! That girl must have been loopy."