...NO MORE TEQUILA...for a while October 7, 1996 (and more)

From Verlene's U.K. dance card -
She says, "The Gals in Miami. Red makes her look so much younger."*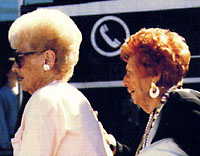 To all the girls who shared my life, who now are someone else's wife!
Seniorita Margarita and I had a huge falling out this weekend. I cannot begin to tell you how upset I am with her! I had an extremely full agenda for the weekend and Miss M. decides that she is going to raise her cute tequila-latina head and take over my Saturday night. I apologize, with obeisance, to any who may have seen me in my inebriated state!
Attending the big AIDS benefit Art auction, on Sunday, with a hang over, was a real treat. You have not died until you sit under glaring floodlights and had some man screams bids at you. Some bitchy "north Raleigh" woman spilt her red wine on my cream blouse, I did not realize this until much later. We were fighting until I gave her a dollar and told her to get her roots done. Then, I quietly sipped my mint tea and wondered if everyone could tell that my date was wearing a toupe'. Not a pretty evening.
Well, let me thank all of those who sent me the cards, and calls, for my slip down the AOL chat room slope. I am doing better, I was only on-line for about 4 hours this weekend. I hope to have this cured before my 50 free hours run out and I have to start paying for this habit. Sure, they give you that free sample, get you hooked and then you move on to the bigger stuff. Downloading filth, movies, Del Rubio triplet songs! Bob Dole is worried about the youth of our nation getting hooked on drugs! Wake up and shut down these cyber pimps...OK look, my soapbox just crashed under slingbacks.
Speaking of Dole...no...I promised myself not to get upset before lunch...(I'm having a delicious shake!)
Time to get some of the addictions under control...I may have to check into a spa, or travel somewhere...hmmmm, where is the number for Ms. Rolohantas.
Well, I did not see Ms. Trudy at the homeowners meeting for the trailerpark. Of course, I was barely awake at 10:00AM on a Saturday...I had no idea that all of this activity took place in the world at that time. It was pretty, but I do not think that I will do it again.
Marcia and Marta! You are all that is good, thanks for checking on me!
Well, I have to run...apparently I have books to throw at my employees...(do not ever accuse me of doing something I did not do!) and I am going to run...The Quilt is on in DC this weekend! I had plans to attend, but these may have been thwarted.
I love you all (except Ms. Margarita)
Verily Verlene
Write to Verlene at verlene@datalounge.com
*And I say "It's not only the hair color, but accessories. Note the button earrings and the upswept do drawing your eyes away from any possible signs of age. Or see how the round oversized hoops add a gentle 'hip' quality in this era of 60s nostalgia."