The Madonna House October 15, 1996 (and more)

From Verlene's U.K. dance card -
She says, "My God, there is a bird in there."*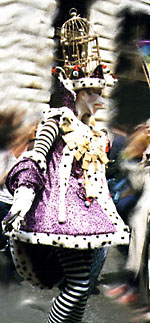 Greetings all:
Well another rum filled week for old Verl! First the bad news, my Grandfather passed away last week on the Island of Bar bados (yes where Claudette Colbert just passed away too) and Verlene was whisked down to the island via friends(in very high places) at American Airlines. I than them for holding the flight for me (and me alone) in Miami! Bless them!
Ergo, I missed all the adventures of my friends in Washington for the quilt. I am sorry. CNN caught me up to date on what was happening. I hope that Watusi and everyone got the message that I could not make it!
All was well with the funeral, I did not pass-out in the heat, even though I was dressed in all black. The dear old guy is now at rest and I asked Eva Gabor to take care of him and my Granny. My crazy aunt was also in the island. She has not been right since that rose bush talked to her and told her to start her own church. Did I see my cousin Veronica? Oh no! The sweet thing was sick! Get better soon!
In the typical West Indian fashion we had a big "fete" (no I can't put that little hat thing over the "e") later and drank until it was time to go home. Vitamin R, it does a body good.
I do need to limit myself at these events. I gleefully accepted an invitation to visit Madonna's house the following day. After awakening, taking two tylenols, and getting ready for my visit, I was informed that we were visiting The Madonna House...a home for wayward Catholics! People do not make this mistake. I was very overdressed for the event.
I did spend the last night at home in the company of the most handsome gentleman on the island. I can't name drop here but let me tell you. The warm tropical air, the little bay, filled with fishing boats and twinkling lights and the 4 or 5 Campari and Oranges only added to his sparkling smile! We have been friends for years and he is aging graciously! Sigh...
Well, write me if you need more news. Verlene@datalounge.com. I have been out of work for a week and I do not think anyone has noticed!
Vitamin R Verlene!
Next week, I think I'm turning Platinum! More on that as it progresses.
Write to Verlene at verlene@datalounge.com
*And I say "I'm afraid to look."