Vote, and vote correctly! November 4, 1996 (and more)

From Verlene's Parisian dance card -
She says nothing, as is proper for one in her position.*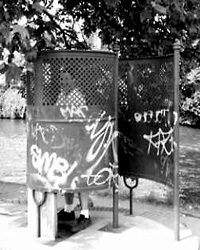 Gals, this will be a quick note, I must straighten up the trailer, pick out an appropriate wig, throw on a pair of clean spandex shorts and rush out to the HRC phone-a-thon. Tomorrow is election day. Now I cannot tell you who to vote for, but I will be working my press-ons to the cuticle, dialing to defeat Jesse Helms here in North Cacolacki. It has been fun talking to people called Flossie, Ulua, Cummie and Carlene.
I did not know that I had a political bone in my body, but it appeareth that I doth! (And no, this has NOTHING to do with the cute Argentinian in the extra long sweater, at the HRC kickoff party on Friday). Tina, you would be so proud of your sister in suffrage.
Speaking of Tina! The separation is now nearly complete. Jacquelyn is moving out and going west. I am so worried about Jackie, first I get a report of an evening spent with white Russians (I hope she was talking cocktails, those boys will do anything for a green card) then ended with Jackie being dragged down a marble foyer by a Jack Russell (again, I hope we are talking about a dog), wig "all crazy", dress up around her ears, and her jockstrap showing. Not a pretty visual.
Then I read about Jackie and her friends, as the U.S. women's gymnastics team, in the Washington Post:
Dupont Circle Area Becomes Halloween's Main Drag
...
There was something for everyone. An ersatz Jackie O.; the U.S. women's gymnastics team, complete with gold medals; Jan Brady looking for Marsha; Wonder Woman; and even Elvis in heels....
The article is actually on line at: http://www.washingtonpost.com/wp-srv/WPlate/1996-11/01/170L-110196-idx.html
Ah well! I shall say a rosary for her and roll a few extra beads for the gals from NashVegas, who (by their own admission) have been partying entirely too hard! I do not think that Jamaica knows what it is in for.
And now for the International Update:
OK! What is wrong with this picture? My brother is spending 6 weeks in the South Pacific and Australia, The Good Doctor is in Australia, Alana Empty is in Australia...was it something I said? I may have to go somewhere soon to try and catch up...where is Rolohantas' number? This is not fair!
I want to take a moment to also thank all the gals for coming by the trailer on Saturday night. (Well, thank those were neither in Austraila, Baltimore or denial). In attendance were Chipperlene, Watusi, Ronda, Brianna, Karla, Erica Sparkles, Clarisa-san, TJ(Actress), Thorzine. Thanks for bringing the wine to cheer up the old gal! Consuela, I got the message and I will not tell the I.N.S. a thing!
Next Monday is Veterans day. We government workers and postal gals, have the day off! So, please do not write me at verlene@datalounge.com begging me for no updates! Hmmmmm, a long weekend...and what was Verlene's rule #2? If there is a long weekend, leave the country? Gotta go, let's defeat Jesse and then party.
Voting Verlene!
P.S. My puss has not brought in any strange animals recently. Of course that could be read two ways...read as you would like...both are correct.
*And I say "I can't believe the poor dear left the house without her face on!"