I picked a good week for this! November 18, 1996 (and more)

From Verlene's dance card, sitting this one out -
She says "Verl found a nice relaxing place on the last trip to Paris. Unfortunately, it was already taken!"*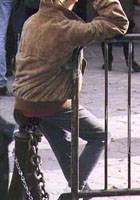 Hi my ambrosias,
Well, last week I got fired (sorta), but you all know how "disgruntled" we government types and postal workers can be, so I got rehired (sorta). I then took that opportunity to resign my position. I snapped my purse shut and called for my stole ["Stole please!"] and left. Fear not my pumpkin pies, I will be moving on...you know a rolling trailer garters Kate Moss...or something like that! I will no longer be working in a place where, in response to my comments on the Republican Party, someone else wrote on the bathroom wall, "Typical screeming liberial"...I swear! Chipperlean, why are you not here this week?
Well, all good things must come to an end...I have no idea what this means to my frequent trips to exotic places. I know that some of you live in anticipation of the Monday "Trailer Park News" and I will try to keep things a-moving, but this gal will be on a budget, until the welfare checks start coming in! If you have any ideas on how a "slightly used" older gal can make some extra cash, please let me know. Trudy did have some ideas, but they involved moving out of the country where the laws are a little more lenient. My gals in the park in NashVegas are selling their plasma to go to Jamaica, but I cannot do needles! But I will try and concentrate on the local happenings (when I find them)!
Of course, there are a couple of trips that were bought and paid for before this recent turn of events so we will have some fun before the new year!
So! What is happening here? Well! My satellite dish is out and being repaired so I went to the movies to see "The Mirror Has Two Faces" with our queen, Barbra! Well, it was OK! Verl hates the "Sandy-in-Grease" stories where, if you loose a few pounds, over- dose on Clinique, pierce something, and go crazy with a "Frost-n-Tip" kit, then all of your problems will go away. Sure, you look like a slut, but now you are happy?
There was quite an abundance of estrogen in that crowd! I thought that this was going to be the way that this film ended but Barbra (who is back-lit in every scene, looking like a peaceful doe, not knowing that the 18-wheeler is fast approaching) pulls it off and does not let us think that looking like a whore is the answer to all of our problems. Trust me, it is not! Worth the trip out of the park! Bring your own cheetos!
Other than that, I did see a few familiar faces on Saturday night. Ronda and I did go shopping for shoes. No luck. Debbe Reynolds, Gretch and TJ III (hairdresser to the stars) we all out. They are all heading down to Miami for Turkey day but I do not think that I can get there (see above). Sylvia and Billie Jean left for DC. My fault for the confusion over the dinner plans! Sorry Gals!
Well, gotta run. I'm having a yard sale for the Vend-a-Verl Fund.
Clinique (basically the whole counter available)
Two house trained Siamese Cats
Several Wigs (Samantha Stevens has first option on these)
Estrogen
1 Pinto (good working condition)
1 carton of oil (for Pinto)
1 cellular phone (in case Pinto Breaks down)
3 very revealing pictures of Jacquelyn Michaels
Well, if I think of anything else, I'll let you know...I must go. Write me at Verlene@datalounge.com or come by and visit the trailer at http://www.datalounge.com/trudy. It belongs to my "neighbor" Trudy and she has several lovely photos available for you.

Valorized Verlene!

*And I say "No comment."