Au revoir, mon government! November 27, 1996 (and more)

From Verlene's dance card, sitting this one out -
She says "Verlactually standing in front of the 'Gates of Hell' (Rodin) ... my wide brimmed hat had just blown in, but they would not let me get it. I have been thrown out of worse places. Yes, I know it looks like I was relieving myself, but I was not"*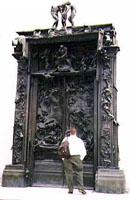 Whoosh!
And Verl returns home! Much ado about nothing, I apologize to all of you who went into absolute (with an "e", unlike our favorite mixer) tizzy thinking that I was unemployed! Au contraire! I have landed quite a terrific position and may be moved to the Shake machine next week! Thanks for the hampers and casseroles!
Well, of course, I was digging through my mail (the paper kind) and noticed that there was an announcement that the movie "True Blue" was opening in London and that the Queen was expected to attend. Well, as the queen of the trailerpark I assumed (incorrectly) that I was to attend so I managed to finagle a business class seat to London and arrived at the theatre just in time to see Betty going in (bitch) for the opening. I felt like a fool, but thought, well, since I am here, I might as well enjoy it! London was (again) cold. It was colder than it was two weeks ago but I managed to have fun. I did see the movie, but with the "yank" bashing that took place, I predict a quick trip to video here in the USA. There was a stunning array of young "blokes". The English ones (heroes) and the Americans (the ones with good teeth and a tan).
I did also see the re-worked play "Martin Guerre". Considering it was from the guys who gave us "Les Mis" it was (alas), highly MIS-sable. A huge disappointment. Nearly as bad as the recent "Dallas" reunion!
I returned yesterday. Again in Business Class (it is amazing what they will do for you if you just ask nicely). I did have to move from the lovely english gentleman, with the body odor and smelly socks! I covered my nose, collected my wide brim hat and moved to the window, fanning myself with my nearly full passport! You would think that the brits would have discovered "Sure" or "Right Guard" by now!
Sylvia and Chipperlean are both back in town, but we have not caught up. Maybe at Bingo or the next singles night. Marcia Zoom Zoom has been downsized and I am going to invite her to many dinners! She is a sweetie and I am quite a master with bangers-n-mash! Leeza! Do not let me start with her problems, let us just say a prayer for all of the confusion that is in out lives now! TJ (HRH CMQ XV) and I missed each other by a few hours in London. He "had" to go to Paris! I leave it at that! Alana is still tramping through the South Pacific. I got a card and she was going diving on the Barrier Reef...hmmm, I did not know that she liked those "low tide lunches".
Well, this will indeed be the last update from this address. I do not know when the next one will be but stay tuned to your mailbox! I promise that I will keep in touch. I must turn in my badge and leave. I'll update the trailernews soon. You can still write to me (and send me invitations to New Year's Events) at Verlene@datalounge.com.
Remember, a delicious shake for breakfast, a prozac for lunch and the entire platter of turkey/stuffing and cranberry for dinner!
Happy Thanksgi-Ving Verlene
*And I say "These gates you were speaking of, I thought they were something to wear AND visit. Silly me..."