"Hello Bali", I said "Hello Bali." February 28, 1999 (and more)

Selamat Datang,
Or "greetings" from Bali!
My friends, it's been a maniacal month. The Eurostar that I am, started the month in jolly ole' England on an assignment (gracious, it does sound like some sort of" Mission Impossible" episode).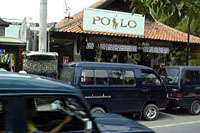 London was as charming as ever. Polite people, forcing me to run through the velvet lined "queues" even though there was not another soul, in the train station. People "pardoning" themselves every time they accidentally bumped into you. It's hard to believe that these people once controlled Hong Kong.
I packed my schedule up with enticing dinners with Pookie, my crazy shorn cousin and yes, I even indulged in some paella, even though that was not entirely my idea!
Alana, I took up your suggestion and went to see "The Opposite of Sex" and it gets a vivacious 2 press-ons up!
I did not get to spend too much time in London as I was working in some little "city" about an hour away. Apparently, if you have a church with a bishop, them you qualify as a "city". I have seen bigger villages on "uninhabited" islands. Picture moi in a quaint little inn, being served breakfast by young rosy cheeked English lads. I was good but I still could NOT bring myself to have the bagel and Marmite. Ugh.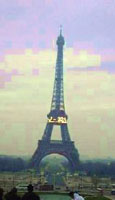 In any event, Valentines was approaching, and Paris was just a chunnel ride away.
What an adjustment! I arrived at the Gare du Nord with just an overnight case and enough concealed to get me through the weekend.
Ah, Paris! Valentines Day, in the "City of Love" ... by myself!!!
GONE were those polite Brits! Only in Paris can you sit, sipping your black-as-tar coffee, as the man next to you positions his Great Dane at your feet, and then proceeds to cough, sneeze and pick his nose; YET he will correct you for accidentally calling the menu "her" instead of "him". You crazy French twerps, Le/La menu is the LAST thing I worry about as your equine sized pup, ardently eyes my Croque Monsieur.
And the smoking!! Mon Dieu! I happened to be in a fave rest spot (convinced that I would see my dear friend Sylvia) and I soon learned that, in the words of the immortal Chipperlean, "Non Smoking Section: simply means that YOU don't have to smoke."
The Louvre was too packed to even try and go in (attached picture of the queue) but I still had oodles of fun! The Eiffel tower had a BIG sign on it that said "J-321". It took me a minute to realize that this then meant that there were 321 Jours or days left to the millennium. Anyone made plans as yet?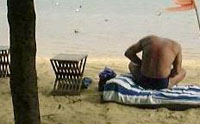 Well, my mission took me back from Paris, to work in London, and then to jump onto a flight to Bangkok to work there for a day. I do not know how many of you have ever flown (or though of flowing) on Eva Air, but I if you get a seat in the "Deluxe Economy" section, it really is not too bad. They are Taiwanese and therefore efficient, but not pretty.
One night in Bangkok ('tis enough at this point, since I KNOW where to go!) and it was off to Singapore and then FINALLY Bali! What an amazing place! The view (attached!)
After that crazy travel schedule, I did nothing but sat and watched the sun, and my endless supply of fruity drinks, go down. I did venture into town and I apologize to the tourists for my lack of camera contol. It was the drinks and the heat!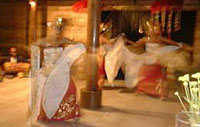 Lots of scrumptious dinners and dance shows! More cousins and uncles were there but I really just sat in this beautiful Balinese hut with the warm breezes caressing my mango juice, listening to the lovely exotic music.
It's so beautiful and everyone seems to be so artistic and happy. I would be too, if I could walk around all day in a sarong and my hair tied up in a scarf!
I had to rush off for a meeting in Hong Kong but I will be BACK to Bali.
My work in Hong Kong finished so I ran home to Singapore to do laundry and attend the Chingay parade?which is NOT what you are thinking?
Be good, and be careful
Very-tired Verlene